High School DxD: 2x4
A Formidable Enemy Appears!
Issei and the others start their operation to search for Freed and the Excalibur, later finding the ex-priest at the abandoned warehouse previously used by Stray Devil Viser. Kiba then engages Freed in a one-on-one battle until Issei, Saji and Koneko intervene, giving Kiba the advantage. Before they can finish off Freed, an elderly man suddenly appears, introducing himself as Valper Galilei. After some advice from Valper, Freed starts to control his Excalibur better and manages to reverse the situation until the timely arrival of Xenovia and Irina. Valper then suggests that they should escape, which they did after Freed uses his flash bomb. Kiba, Xenovia and Irina then chase after the two as Rias, Sona, Akeno and Tsubaki arrive at the scene. Issei and Saji are then punished by their respective masters for taking action without permission. Back at the Hyoudou Residence, Asia greets Rias and Issei in a naked apron as Rias decides to change into one as well.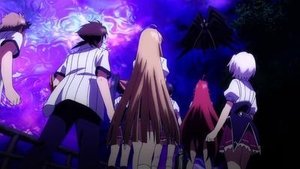 Jul. 28, 2013